Table of Contents
---
Dear Colleagues,
This book has just been released--a massive tome of almost 1,000 pages by multiple scholars on the Dilun school. All articles are in Japanese.
The book's description, along with its table of contents, pricing, etc., is available from the publisher's web site:
http://www.kokusho.co.jp/np/isbn/9784336061133/
地論宗の研究
金剛大學佛教文化研究所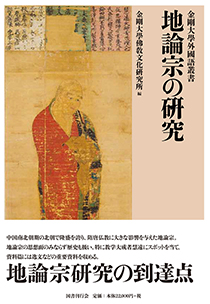 ---
You can manage your notification settings at
https://networks.h-net.org/user/87185/notifications
---
H-Net on:
Facebook
-
Twitter
Please help us keep H-Net free and accessible. $5 from each of our subscribers would fund H-Net for two years. Click
here
to make a tax-deductible donation online.